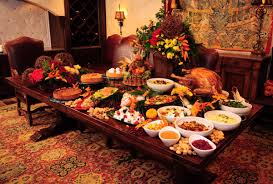 Thanksgiving is coming up fast, and everyone is making preparations for who is going to cook and how many extra servings we can get, but others are thinking about the true meaning of Thanksgiving: giving thanks. Many people are thankful for having this meal, and others are thankful for their family being there with them. Thanksgiving is a time to not just sit down and watch the football game but to also appreciate the time that you are having with family and friends. That is what Thanksgiving is about.
I am very thankful for the things I have, like being able to go to whatever school I want, and being able to live in a home with loving parents. My favorite part of Thanksgiving is not just the food but also being with my family. I love being able to be with friends, talking about whatever. That makes me feel very calm. I also like when my family and I go out to someone else for Thanksgiving. I enjoy sharing thanks with others.
Now, after you have given thanks to all the things you have, it is time to start eating! Here are some different recipes to spice up your Thanksgiving feast. The first link has classic Thanksgiving side dishes but adds something to it that makes it special. The next one is just unique Thanksgiving menus.